Porsche pulled the silks off its newest model, the 2024 718 Spyder RS. The mid-engine roadster represents the latest evolution of the Boxster convertible platform, hot on the heels of the 2023 718 Cayman GT4 RS, the hardtop counterpoint to Porsche's 2-seater convertible.
Porsche
POAHY,
-0.35%
has revealed so many incredible details about the new Spyder RS it's challenging to decide what's most exciting. Since a picture is worth a thousand words, here are a couple of photos to allow me to catch my breath.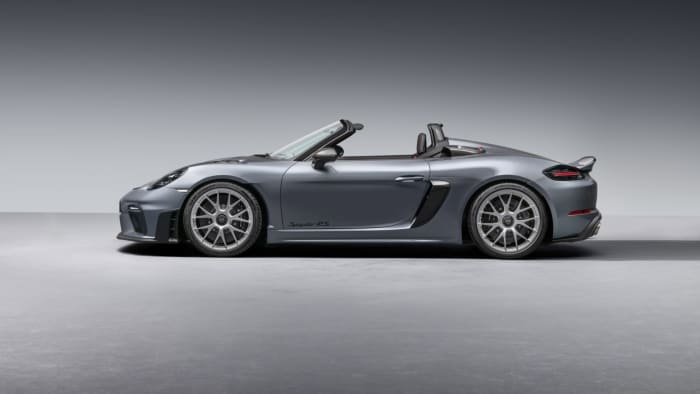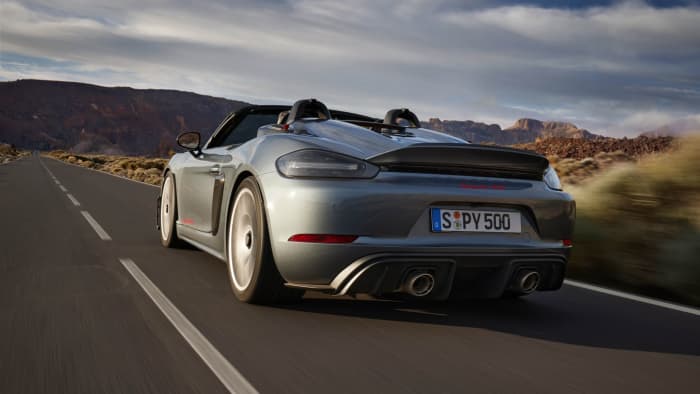 These images might be enough if this new Spyder was just about design. But this is a Porsche, so performance is an essential topic.
Performance
Like the rest of the 718 lineup, the 718 Spyder RS mounts its engine ahead of the rear axle to drive the rear wheels. The engine here is a high-revving, lightweight boxer plucked directly from the 911 GT3 Cup racer (just like you'll find in the 718 Cayman GT4 RS). The 4-liter 6-cylinder engine puts out 493 horsepower and 331 lb-ft of torque. The 7-speed PDK transmission (a dual-clutch automatic) is standard — no manual transmission is available here. However, paddle shifters and a center-console mounted auto-stick make direct gear selection a choice for drivers.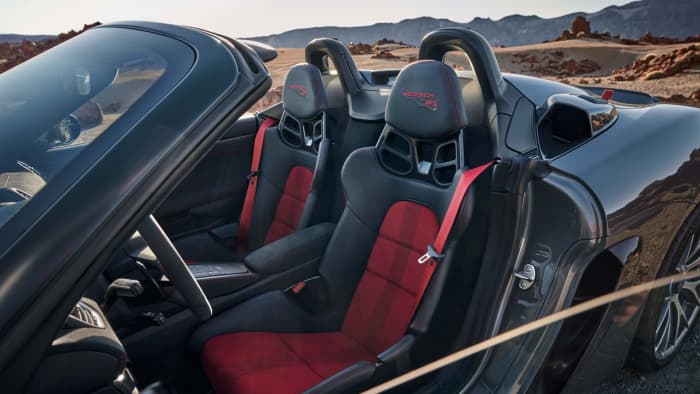 Some fun numbers: The 718 Spyder RS can go from a standing start to 60 mph in 3.2 seconds — 0.5 seconds faster than a "standard" 718 Spyder. The top track speed is 191 mph. That's quick and fast on a platter.
You might like: Here are some of the most advanced car tech features ​you should know about
Handling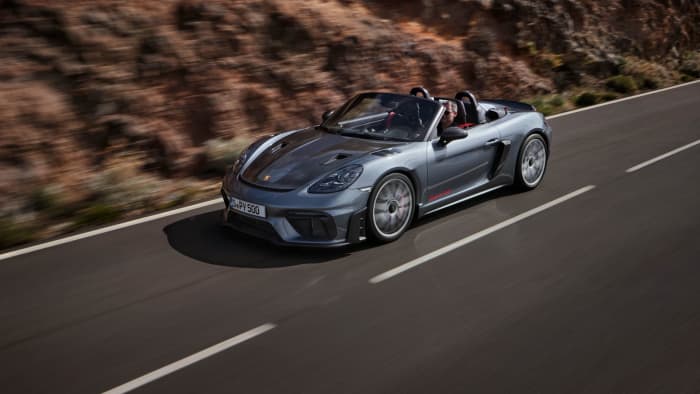 Porsche Active Suspension Management (PASM) is standard on the RS and lowers the vehicle by 30 millimeters (about 1.2 inches). The handling package includes Porsche Torque Vectoring (PTV) using a mechanical rear limited-slip differential. Ride height, toe, camber, and anti-roll bars are all adjustable. Porsche says the Spyder's spring and damper rates "have been reduced to achieve a more relaxed, characteristically convertible-style setup" versus the 718 Cayman GT4 RS. For those of us who would plan to actually drive their 718 Spyder RS in the real world (as opposed to snatching one up and putting it in a warehouse to appreciate), we can order a front-axle lift system to make managing driveways and other obstacles less of a scrape by lifting the front end by 1.1 inches when driving up to 37 mph.
Also see: It's now or never for the fabulous chassis and glorious V-10 engine of the 2023 Audi R8
Options
The 718 Spyder RS comes with 20-inch forged alloy wheels, which can be upgraded to magnesium rims by ordering the Weissach Package. The Weissach Package also swaps out body parts and some mechanical parts for components made of carbon fiber, titanium, and other weight-saving materials, along with other go-fast options.
Lucky buyers who choose a new 2024 Porsche 718 Spyder RS get the exclusive opportunity to purchase a matching, handcrafted watch from Porsche Design with a titanium case, a carbon-fiber dial, a strap made of vehicle leather, and a rear rotor that mimics the RS's wheel design.
Check out: The 2023 Porsche Taycan: an electrifying drive in more ways than one
When can I get mine?
The 2024 Porsche 718 Spyder RS will start at $160,700 plus a $1,450 delivery, processing, and handling fee. Expect to see the convertible on U.S. shores beginning in spring 2024. The vehicle will make its public debut in June 2023 at the Porsche 75th anniversary celebration in Stuttgart-Zuffenhausen.
This story originally ran on Autotrader.com.