IBM's business is split into two key divisions: IT consulting and software. The latter is the primary revenue driver. The software unit generated $6.27 billion revenue, up 8% versus the consulting division, generating $4.96 billion in revenue, up 6%. Like many tech companies, IBM's software division is also investing in AI to drive future growth.
Amazon
Amazon announced record third-quarter profits after the close Thursday and surged 5% Friday morning (at press time) after strong growth in its highly profitable Cloud business. While the stock was up 40% on the year, shares had fallen 8% in the previous two days after rival Alphabet warned that cloud customers were curbing spending. 
Growth is growing…
While North American bank stocks answered the question about how the economy is fairing, technology stocks answered questions about growth. The big message with tech is that growth is still there, and it will continue to be going forward. In today's market, investors looking for growth need to own at least a few big-cap tech stocks. These companies are becoming the consumer staples of tomorrow. That includes stocks from companies like food and grocers and utilities that ground portfolios. That's because, when the market dips, people still have to buy food and heat their homes. In today's digital age, the technologies we've been talking about are embedded in our everyday lives and are poised to continue to grow.
Bank of Canada pauses interest rate hikes 
The general consensus going into the week was that Bank of Canada Governor Tiff Macklem would push the pause button on another interest rate hike. And that's exactly what he did on Wednesday. Even though interest rates didn't go up another quarter point—which was the plan—the damage has been done. Some Canadian investors and the markets worry that another rise in interest rates could increase the pressure on individual households and businesses, ratcheting up the fear and likelihood of a recession.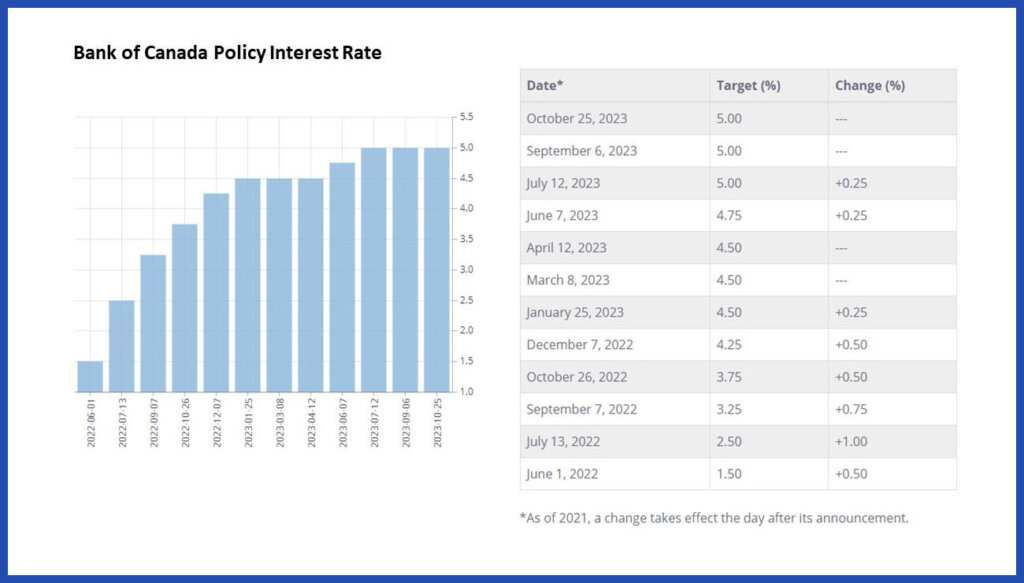 The Bank of Canada (BoC) itself was under a lot of pressure from provincial premiers to hold off on a rate hike precisely for these reasons. That's despite not being closer to the 2% inflation target the BoC has set its sights on. For me, though, the question has always been: Is 2% a realistic target? And even if it is, how much pain is the BoC willing to inflict on the economy to achieve it? 
Personally, I'd rather see a 3% inflation rate target, along with strong employment and healthy consumer spending, over targeting 2% inflation and lost jobs and a recession. Some analysts are predicting that the recession that was expected this year will take hold next year.
Ahead of this week's decision on interest rates, I've written to the Governor of the Bank of Canada to again express my opposition to any further rate hikes. Higher interest rates are hurting people and businesses that are already struggling to pay their bills. pic.twitter.com/B0l4yBYDAO

— Doug Ford (@fordnation) October 22, 2023
I'm surprised we're here, in the third week of October, still talking about interest rate hikes. I thought by now the central banks would have stopped relying on them so heavily. The Bank of Canada has raised interest rates 10 times since March 2022.
It's interesting that both the BoC and the U.S. Federal Reserve keep referencing the lag effect between when a rate hike is implemented and when its effects show up in economic data. Yet, neither specify just how long this can and/or should take. How do we know if the hikes are working? Are they willing to blow everything up because we're stuck on 2% inflation? 
When you have the cost of borrowing tripled, in some cases because of all these interest rate hikes, I have to wonder whether the BoC is sending an inadvertent message to Canadians: "You are living beyond your means. You've enjoyed a run of many years of low interest rates, where money was basically free with no worry about what happens later, when the cost to carry debt rises. The days of high interest are here now for the foreseeable future."