JPMorgan Chase & Co. and Goldman Sachs Group Inc. earned the highest praise from KBW analyst David Konrad for their first-quarter profits, according to a research note.
"Despite the gut-wrenching volatility in bank stocks, the overall market has performed well, supporting growth in wealth and investment management revenues," Konrad said in a report published Sunday.
KBW reiterated outperform ratings on Morgan Stanley
MS,
+0.59%
and Goldman Sachs
GS,
+0.56%
given their large capital-market businesses, Konrad said.
"We prefer capital markets exposure given trough revenue levels and recent green shoots in equity capital markets, and exposure to asset and wealth management," Konrad said.
JPMorgan Chase
JPM,
+0.55%
posted the best quarter among the class of largest U.S. banks, due to its stronger-than-expected profit, "strong" return on average tangible common equity and its net-interest-income momentum.
The company's stronger-than-expected net-interest-income forecast of $81 billion beat the Wall Street projection of $74 billion. Looking ahead, NII will be driven by credit-card growth and lower-than-expected wholesale-deposit costs, as well as near-record activity in fixed income and credit trading, Konrad said.
Goldman Sachs has emerged as "the top banker in a recessionary environment" on better-than-expected advisory fees of $818 million, which beat KBW's estimate by about 26%, he said.
Bank of America Corp.
BAC,
+2.15%
turned in the most challenging quarterly results while beating preprovision net-revenue projections, offset by higher expenses.
"Despite the beat, the guidance for the next quarter [for BAC] was below expectations for both net interest income and expenses, resulting in a 4% cut in consensus pre-provision net revenue in 2024, which was the largest cut in the group," Konrad said.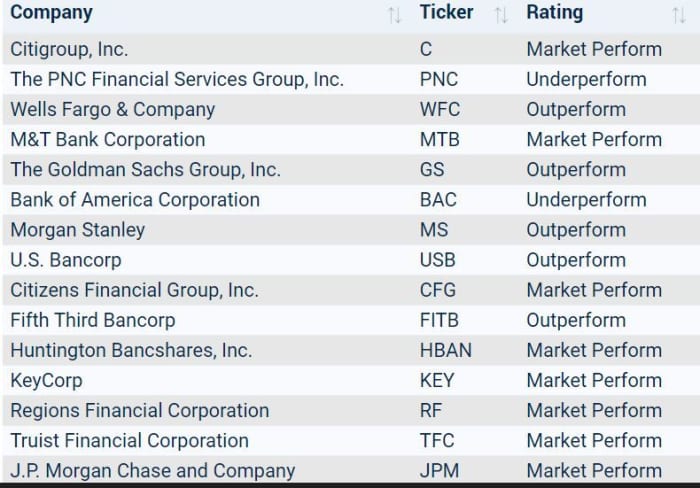 KBW also has outperform ratings on Wells Fargo & Co.
WFC,
+3.63%,
U.S. Bancorp
USB,
+1.51%
and Fifth Third Bancorp
FITB,
+2.37%.
KBW has market-perform ratings on JPMorgan Chase, Truist Financial Corp.
TFC,
+1.61%,
KeyCorp
KEY,
+5.56%,
Huntington Bancshares Inc.
HBAN,
+2.53%,
Citizens Financial Group Inc.
CFG,
+3.22%,
M&T Bank Corp.
MTB,
+2.55%
and Citigroup Inc.
C,
+1.24%.
PNC Financial Services Group Inc.
PNC,
+1.52%
and Bank of America Corp. are rated underperform.
Also read: The regional-bank crisis did not appear over on Thursday