Wang Jiali, a Chinese citizen living in the greater Boston metropolitan area, was tried for multi-year stock market manipulation conspiracy by U.S. District Court for Massachusetts on Dec. 1.
Wang was accused of leading and participating "in a sophisticated market manipulation scheme aimed at the U.S. securities markets that was perpetrated primarily from China," which illegally made more than $30 million on the New York Stock Exchange and Nasdaq.
Wang was sentenced to 3.5 months in prison, nine months of home detention, and $7.75 million in forfeiture.
From 2013 to 2018, Wang and co-conspirators manipulated the trading of listed U.S. companies, according to the Massachusetts District Attorney's Office. Using multiple brokerage account names, they artificially depressed or inflated the prices of "light-traded stocks"—stocks that trade in low volume, are highly volatile, and are extremely sensitive to market buying and selling behavior—making them vulnerable to group manipulation. "The scheme tricked institutions providing market liquidity to trade at artificial prices," said the District Attorney's Office. Wang made illegal profits by manipulating market prices.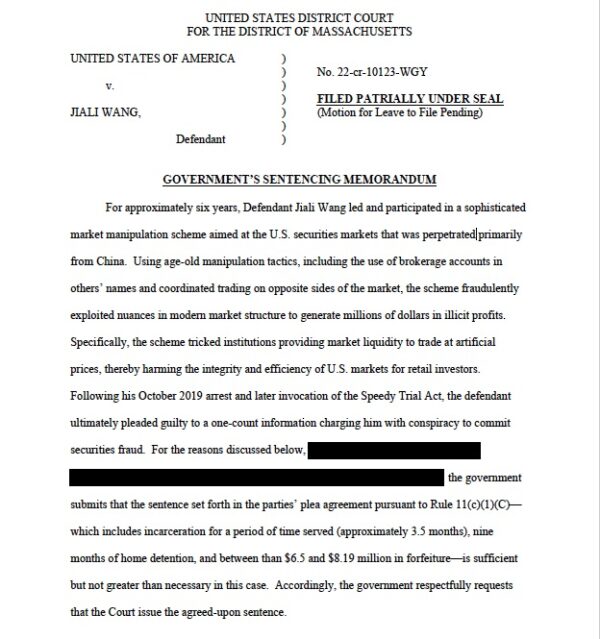 According to court records, Wang, 44, is a resident of Weifang city of Shandong Province in China, and owns an apartment in the small town of Weymouth, Massachusetts. He was about to fly to Beijing when he was arrested at Boston's airport on Oct. 14, 2019. Wang's cousin Wang Xiaosong was also arrested at his summer home in Upton, Massachusetts. The two used to go to the United States for the summer and return to China in the fall.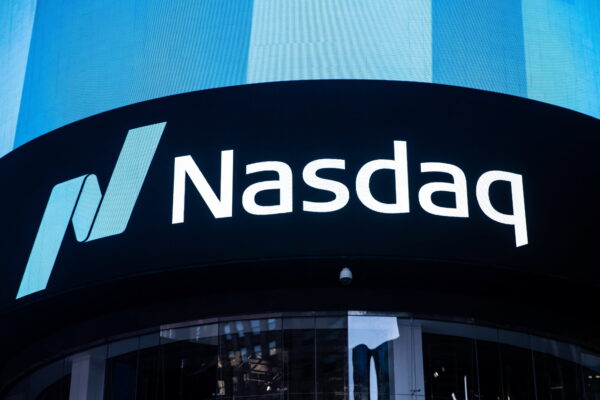 The U.S. Attorney's Office in Boston announced criminal charges against the pair for stock price manipulation and conspiracy to commit securities fraud.
The U.S. Securities and Exchange Commission (SEC) froze the assets of 18 Chinese traders including Wang Jiali. Most of the other 17 Chinese nationals mainly live in Shandong, a few live in Shanghai, and one is an institution registered in Hong Kong. They are accused of manipulating more than 3,000 stocks in the market and obtaining illegal profits of more than $31 million with a total of 3,900 manipulation activities.
On June 15, 2022, the SEC announced that it obtained final judgments against the 16 defendants and 10 relief defendants based in China involved in the stock manipulation scheme. They were ordered to pay over $75 million to the SEC.
On Aug. 5, 2022, Wang Jiali pleaded guilty to one count of conspiracy to commit securities fraud.
Age-Old Manipulation Tactics
Before U.S. Senior District Court Judge William G. Young's sentencing, Wang's defense lawyers plead that Mr. Wang did not speak English, was not trained as a broker in the United States, and did not understand American laws and regulations. In addition, Wang is not affiliated with any American financial institution, nor did he use complex algorithms. He and his traders manually entered and canceled orders, and did not create any high-tech trading algorithms.
However, the prosecution pointed out that Wang was "using age-old manipulation tactics, including the use of brokerage accounts in others' names and coordinated trading on opposite sides of the market, the scheme fraudulently exploited nuances in modern market structure to generate millions of dollars in illicit profits," and it's "harming the integrity and efficiency of U.S. markets for retail investors."
In addition, "a parallel criminal action"  against Wang Jiali and Wang Xiaosong is pending. The SEC is pursuing fraud charges against Wang Jiali and the penalty for a judgement in September 2021 against Wang Xiaosong is yet to be determined.