In The Great Money Reset: Change Your Work, Change Your Wealth, Change Your Life, financial expert Jill Schlesinger offers a more measured approach, urging us to take a good, hard look at our personal finances before "blowing up" our lives, as she puts it. Through chatty prose and engrossing real-life examples (including her own career pivot from financial planner to broadcaster), she shows that a little structure and strategy can go a long way. Major life changes can be incremental rather than all-or-nothing, she says, and you can mitigate risk while you make them. 
To help you get started, Schlesinger—who is also a business analyst at CBS News and host of the podcast Jill on Money—provides questions and steps for assessing your situation, spending less, renegotiating your job, investing prudently and much more. The Great Money Reset is a helpful guide for anyone who wants to reshape their life thoughtfully and sustainably.—Jaclyn Law
No-Regret Decisions by Shannon Lee Simmons 
Harper Collins; softcover $22.99, e-book $13.99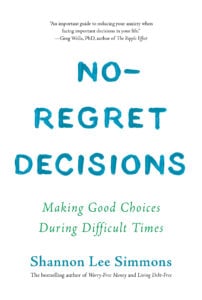 There are many ways to think about your future. But have you asked your current and future selves how you feel about it? In No-Regret Decisions, Shannon Lee Simmons writes that she had decided to not do the book during one of the many lockdowns, when both her business and childcare held massive question marks. She calmed down so she could "break the cycle of panic" and concluded that her future self would be happier if she wrote it—and kept her business running, even if her then-current self wasn't happy about it. 
Using client anecdotes and listicle-style explanations, Simmons gives clear-cut solutions at a time when it's just too damn easy to be wishy-washy or make a regrettable choice. Told through heavy-duty real client stories, from getting divorced to being laid off, Simmons outlines how to build plans of action and get yourself in the right frame of mind to make decisions. 
Her book is broken down into three parts: panic, messy and next normal (thank you, Simmons, for not calling it "the new normal"). These are the points in our lives when she says making good decisions is key, and she calls the entire approach her Decision Crisis Playbook. From each client example, she outlines how they created a plan to make calm decisions, and then she asks the reader to do the same.
Interestingly, the book challenges the idea of creating a stick-to-it-for-life financial plan. Instead, for Simmons, it's about feeling safe in shifting your path to deal with short-term changes but still keeping a long-term goal. Her approach is like a life-coach-meets-career-coach-meets-money-coach. Simmons helps her clients, and of course her readers, to get to the real issues so that the resolution is about that and not about a panic-driven, mess-avoiding decision that will fit your future normal.—Lisa Hannam